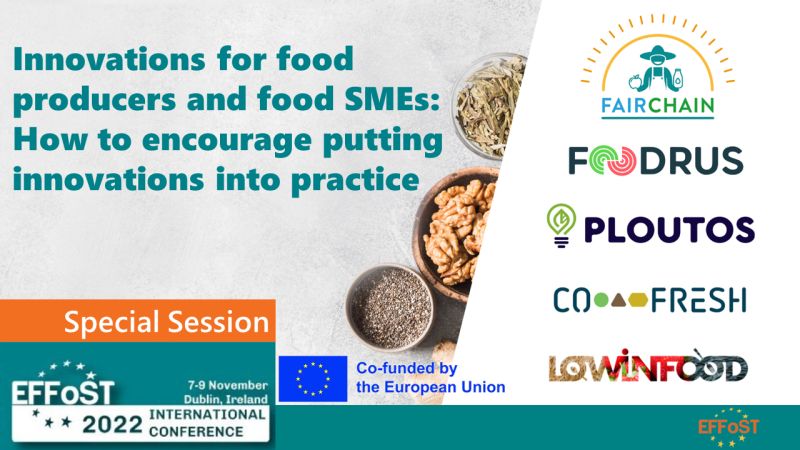 Uncategorised
LOWINFOOD and all sister projects, together in the 36th EFFoST International Conference
The network of projects that are working together focusing on food loss and waste reduction, will participate in a joint event at the 36th EFFoST International Conference, which will be held in Dublin, Ireland from 7-9 November 2022.
The title of this edition of the EFFoST conference is "Shaping the Production of Sustainable, Healthy Foods for the Future", and the sister projects will be offering a special session entitled "Innovations for food producers and food SMEs: How to encourage putting innovations into practice", which will be chaired by Geneviève Gésan-Guiziou and moderated by Katherine Flynn, both partners of the FAIRCHAIN project.
During the session, the representatives of the different projects will present the technical and technological innovations demonstrated in their initiatives, innovations devoted to SMEs and producers that may increase food sustainability. They will discuss challenges, supporting and hindering factors for putting innovations into practice and possible solutions for their successful implementation. The session will close with a roundtable discussion and Q&A with the audience.
The list of presenters in the session is as follows: Geneviève Gésan-Guiziou (National Research Institute for Agriculture, Food and the Environment, INRAE, France); Jonas Lazaro-Mojica, Imca Sampers and Geneviève Gésan-Guiziou (FAIRCHAIN); Inés Echeverría (CO-FRESH); Marianna Gkavrou (PLOUTOS); Elisa Carloni (LOWINFOOD), and Juan S. Angarita-Zapata (FOODRUS).
We look forward to this joint event!
Share on Facebook
Share on Twitter
Share on Pinterest