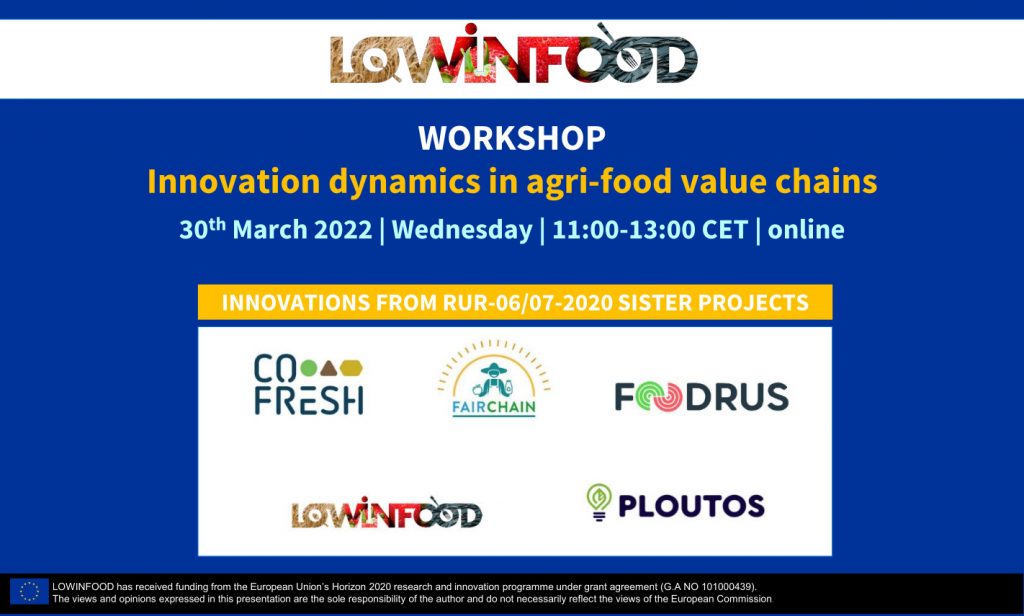 Uncategorised
LOWINFOOD is celebrating an online workshop: "Innovation dynamics in agri-food value chains"
The LOWINFOOD project is organising an online workshop entitled "Innovation dynamics in agri-food value chains".
The workshop pursues the objectives of sharing knowledge and tackling common challenges with sister projects: exchanging good practices, identifying common challenges and potential solutions, and connecting people: promoting networking and cooperation among innovators across projects. They will talk about the factors that influence the diffusion of innovations and will discuss the benefits and challenges of a set of practices/solutions that are being implemented in different contexts.
The workshop will bring together researchers and innovators participating in different H2020 projects funded under RUR-06/07-2020 calls and will include valuable contributions from Stefano Pascucci (University of Exeter) and Inge Van Oost (European Commission representative in the SCAR-AKIS group).
It is addressed to interested stakeholders, including partners of RUR-06/07-2020 calls and SCAR-AKIS group.
This is the link to participate.
Share on Facebook
Share on Twitter
Share on Pinterest