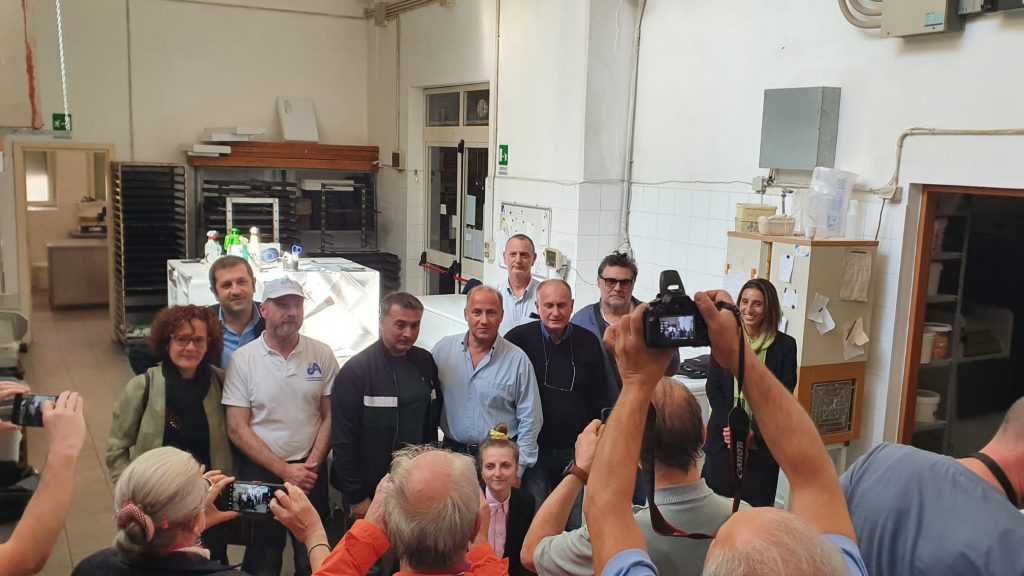 Uncategorised
The Italian roadmap against bread waste attracts media attention
On 22 September 2022, the LOWINFOOD partner CNA organised a press conference in Viterbo (Italy) to present the roadmap against bread waste they have designed within the project. The project coordinator Clara Cicatiello, who also attended the conference, explained the study that has been carried out within the project to quantify the amount of surplus of unsold products at the end of the day at bakeries: it emerged that 5.1% of the quantities produced remain unsold. "It seems little for a single store but applied to all the shops it becomes an enormous quantity of food that is wasted and that has an economic as well as social weight", stated Clara Cicatiello.
The case study that resulted in the abovementioned roadmap against bread waste has been based on 12 small-scale bakeries, mainly located in the Viterbo province, involved by UNITUS researchers and the Italian Confederation of Crafts and Small and Medium Enterprises (CNA) of Viterbo and Civitavecchia. The innovation consists of a series of structured discussions where the involved bakers could discuss together the problem of bread lost and waste and find a common strategy to reduce it.
Firstly, CNA identified and contacted 12 bakeries to start the discussion. Between November 2021 and September 2022, UNITUS researchers and CNA conducted a series of stakeholder dialogues with bakers in the form of brainstorming. The aim is to explore with them the causes of bread loss and waste, identify common strategies to avoid wastage of products and find valuable alternatives to reuse the surplus.
To have a figure of the problem in their business, from February to June 2022 (5 months), in each bakery branch, an assessment of surplus bread was held by using daily diary, in which the quantity of bread produced, the quantity of surplus bread at the end of the day and, if in the case, how do they manage this surplus, was reported.
The direct measurement took in consideration the three most relevant products (which on average represent the 80% of the total production of the bakery involved) in their shelves: common bread, focaccia bread and bread rolls (typical Italian bread such as rosette, sfilatini, panini all'olio).
To fight against this food wastage, they have developed a roadmap entitled "Una mano contro lo spreco" (a hand against waste), with a baker's hand showing five tips in this sense; one tip per finger: 1) keep track of surplus, 2) encourage orders to better plan sales, 3) raise customer awareness on waste issues, 4) encourage donations for human consumption, 5) propose collective actions with involvement of the municipal administration and the CNA (National Confederation of Crafts and Small and Medium Enterprises).
Big coverage was reached by local and regional media:
https://www.tusciatimes.eu/una-mano-contro-lo-spreco-conclusa-la-conferenza-della-cna/
https://corrierediviterbo.corr.it/news/viterbo/33170338/viterbo-cna-piano-contro-spreco-alimentare.html
http://www.tusciaweb.eu/2022/09/nei-panifici-si-spreca-5-prodotto-giorno/
https://www.civonline.it/2022/09/23/caro-bollette-cavallaro-chi-puo-chiude/
https://www.ilmessaggero.it/viterbo/panificatori_e_pasticceri_cna_bollette_quadruplicate_a_ottobre_costretti_a_un_ritocco_del_prezzo-6944425.html
https://www.newtuscia.it/2022/09/22/crisi-energetica-settore-alimentare-in-ginocchio-ne-parlano-a-viterbo
https://www.cna.it/viterbo-una-roadmap-contro-lo-spreco-con-luniversita-della-tuscia
Share on Facebook
Share on Twitter
Share on Pinterest